50,000km update 10/10/20. Not much more to add to the below. Now running G One Speeds 30mm. Otherwise everything is much the same as below  great bike .

15,000km update 12/01/18. The below was written quite early on in ownership. I have now done about 15,000km and have ridden the bike through the last 18 months including 3 overseas trips and two British winters. I'm please to say I'm still completely happy with the bike and it is still running great. The only problem I have had is the rear break caliper developed a leak; Canyon UK Customer service was great and they sent me a replacement ASAP; they also included the hoses and shifter that completed the system which I did not need; I guess they just send extra bits incase … anyway can't fault the service. I am still riding the bike is the same configuration as it was shipped apart from switching the tyres to tubeless. I run Schwalbe Pro Ones in the summer and Hutchinson Sectors in the winter. In all this time I have only once had to stop on the roadside and put a tube in … probably jinxed myself now … but I am a fan of the tubeless; I have had punctures that have squirted gunk out but they reseal at a lower pressure which is more than adequate to continue riding on. In summary still as pleased as the day I took it out of the box…
Original Review written a while after purchase
Note: it is only through writing this that I have realised the product isn't the Canyon Endurance CF SLX Disc 8.0 Di2 … the spelling of endurance …
Why bother writing a bike review; there is a perfectly good one here … and here … well I thought I'd give it a go and perhaps cover some other areas that others don't.
I'm coming up for 50 so thought I'd treat myself to a new ride; I only have one road bike (there is also a TT, MTB & Vintage bike) which I run all year round.
My trusted LeMond had put in about 50,000 miles and was still a great bike; but I fancied some new tech; the key new features I was after were:
1) Di2 – I had already tested this on another bike.
2) Discs – better breaking and no rim wear
3) Bigger clearances – so I can run bigger tyres
4) Tubeless tyres
5) Some improved comfort …
6) Still needed to be light and look good
7) A good range of gears to cover the tours in the mountains
So with this criteria I started my search and pretty soon I was down to 3…
The Canyon Endurance, Trek Domane SLR 7 Disc and Boardman SLR 9.8
In the end I went with the Canyon because:
1) It was the best deal
2) It had the best wheels
3) Wider range of gears
4) Better integration of design
5) Out of the 3 it was the brand that I liked best
6) They did it in RED …
9) … and it was the lightest …
So the next hurdle is size and delivery; quite a bit to spend on a bike that you cant see; but I know my geo and I had seen enough other Canyons to know the quality was good so I took the plunge and ordered. See the spec below….
Friends took the piss suggesting I'd be lucky to get it by Christmas; however after a slight hiccupp the bike arrived a few days before the delivery date quoted at the time of order.
The below is the bike just as it was when I hauled it out the box. Well packed and minimal assembly required. Although if you are a complete muppet with mechanics there is scope to make a mess of things so if that is you take your bike box to a local mechanic.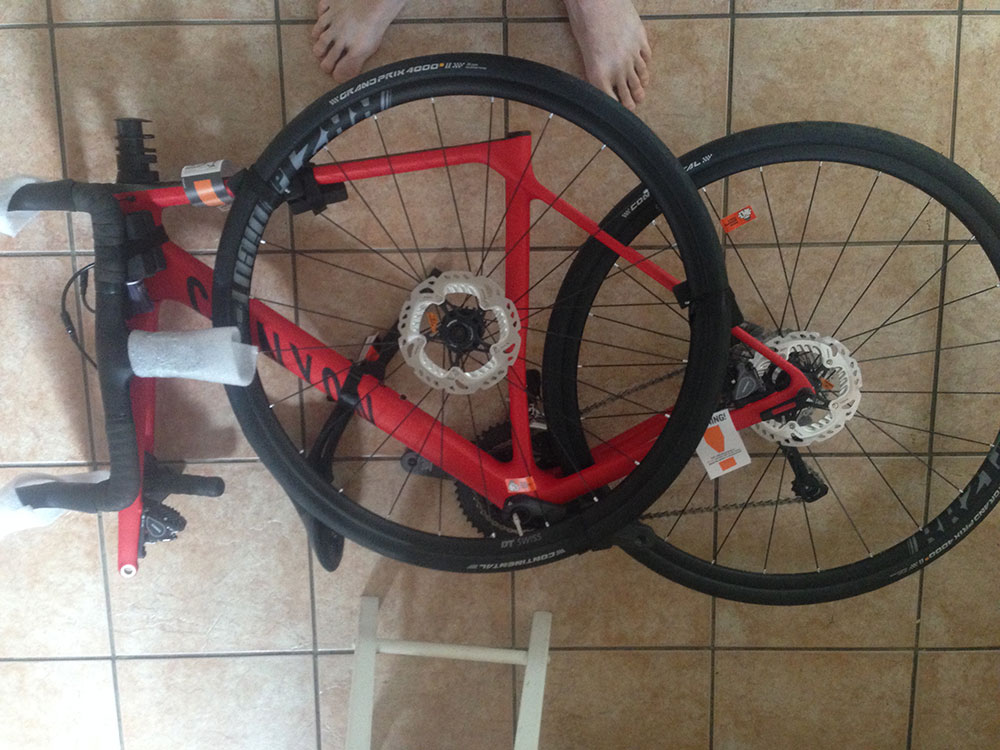 First thing I did after the build was weigh it; and it was exactly 7.3kg as per the spec sheet.
This is me about an hour after the delivery …
Great weather for my first test ride …
The instant I went up the road I was delighted; the bike was more responsive than the LeMond and immediately felt more smooth. Now you read all sorts of bollocks in magazines about stiff rear triangles and compliant frames ironing out road buss and other such bullshite that you just think has been produced by the advertising department but I have to say that this bike did immediately delivers in both responsiveness and comfort.
You may say that a 2016 bike compared to a 2007 bike should be better by design and manufacture progressions but my biggest fear when buying the bike was that it would feel just like the old one and I would have wasted my money … well that fear was soon put to one side. The bike was great.
Since that first ride I have now done about 3000 miles on it and I love it … the bike has done summer miles then a weeks ride in Italy and is now my winter bike (with full mudguards, more on that later).
It has performed well in all departments; I have only charged the Di2 once and all is running well.
I did change the supplied tyres to Schwalbe Pro 1s which have now changed to Hutchinson Sectors for the winter; it is a gripe of mine that it was supplied with tyres and tubes rather than tubeless tyres; however I have discovered that tubeless tyre ownership can be a bit of a trial; getting the tyres to seat on the rims requires a compressor and it is all a bit of a pain to set them up but I have now got to grips with all of that and I am a fan of the tubeless set up.
In the 3000 miles I have had 3 punctures; all 3 times I just kept riding and the Stans No Tubes sealant fixed the puncture and I just sorted it out when I got home. In each case I have applied a patch to the inside, then refitted the tyre with fresh Stans.
I'm hopeful I will never have to fix a puncture on the roadside again; probably jinxed myself now but I live in hope.
The only other problem I have had is a couple of rubber trim bits have fallen off … this was relatively easily fixed with an email to Canyon customer support although clearly they have no stock of parts in the UK and so they have to be shipped from Germany.
One other issue is the paint finish; it looks great but because of the matt finish it is a bit of a swine to keep clean. I emailed Canyon about this and they duly sold me some of their special bike cleaning liquid; this was a disappointment as it didn;t really work. I won't buy any more. If you get a greasy or oily mark on the frame the only solution is GT85 and a clean rag … then it comes up like new.
The 28mm tyres and the cleaver split seat post arrangement are great at providing a comfortable ride; hard to tell which item is making the most difference but I am told by riding friends that they can clearly see the give in the seat post on the bumps …. all I can say is this is a great all day ride with no compromise on speed.
All in all I think this is a great bike and I am really pleased with it. It has delivered in all areas and the customer support from Canyon (which was rumoured to be poor) has been good; I have had to chase on a couple of things but then they are a big company and sometimes things get dropped. The ownership experience has been most enjoyable and I look forward to many more miles.
I have received some very positive comments from riding friends; some are skeptical about discs and Di2 but all I can say is try them and you will never look back. Of course for the traditionalist discs will never be acceptable but if I want to look good I'll get the Montello out …
Tech moves on and so the quality of what you can get improves.
Unexpected things I have really liked are the through axles, no cables and integrated bars. The through axles are really tidy, they look so much neater than the traditional skewer; it is no bother at all to whip out the allen key widget that you get (you can even leave it in if you like) to remove a wheel and this no doubt stiffens the bike up.
Having no cables is also nice as the Di2 and brake hydraulic cables are all internal; this make the cleaning much easier. The new BMC RoadMachine has taken this even further losing the cables you can see on the canyon into the bars and frame but this bike is double the price I paid.
The integrated bars are also nice; i wasn't worried about the fixed stem length as I knew it would suit; some have commented on this being an issue but to me it just highlights you need to get the right size … there are 7 to pick from.
So … the bike has ticked all the boxes and has also delivered some unexpected niceties … I would recommend this bike to anyone who was looking for a similar usage. If I was road racing I would probably choose the AeroRoad; Ron has one and he is really happy with it so really if is down to what you need out of a bike.
Click here to see the solution to fitting mudguards to the Canyon Endurace CF SLX Disc 8.0 Di2 >>>
BIKE GEO BELOW FROM THE CANYON WEBSITE …