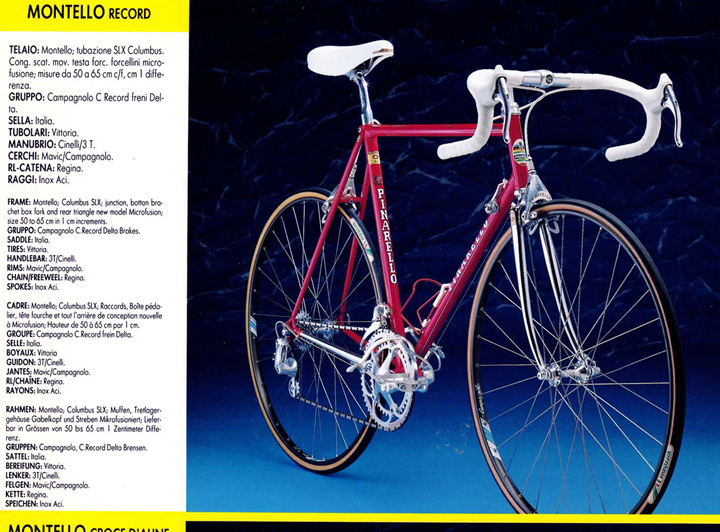 The above is an early Montello with the rear brake cable through the top tube and just a chromed chainstay.
Later the whole rear triangle was chromed as shown in the below 1989 brochure.
I have read that they offered a "team" or "race" trim with just a chrome chain stay and decal head tube badge and also a deluxe trim with chrome rear triangle & brass headtube badge. Sounds plausable … who knows …?
I have seen them with the cable not through the top tube so I can't see a defintative way to identify a Montello. You just have to look at all the factors.
All are built using SLX tubes, if you put your finger up through the BB you can feel the splines in the seat tube to confirm SLX.
The below page is from the 1989 brochure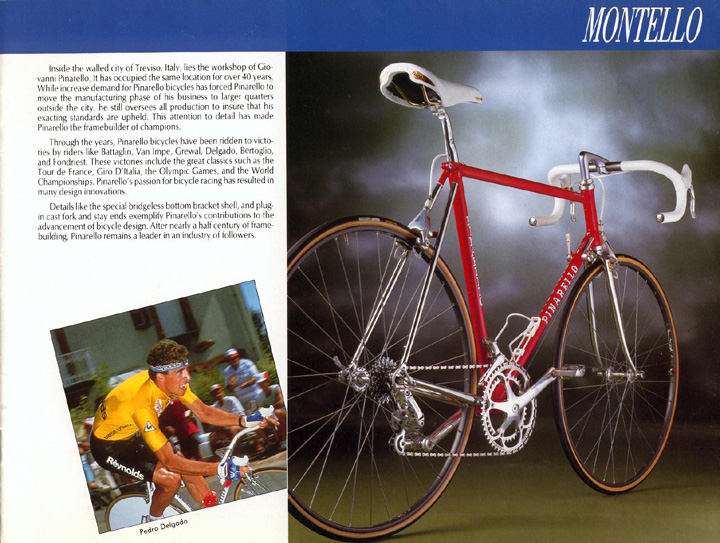 Is your bike a Montello?
Many lesser versions have been "upgraded" by over keen restorers.
Typical indiactions of a Montello are:
– Brake cable through top tube, although not all
– Check for SLX ridges in seat tube inner
But the best guide is that there is no bridge between the chain stays; the BB should look like the below.
Age???
– Well the older ones had less chrome, just the chainstay
– The downtube decal gives clues … examples below …
– The headtube decal gives clues … examples below …
– Rear drop with, 126mm is early 80s, 130mm is 85/86 onwards
– Older versions had Campag dropouts, newer have Pinarello branded ones.
– Older versions had full chrome forks, newer have a painted fork crown.
The above said I have seen a late head tube decal on a frame with an early down tube decal … I am wondering if the guys at the factory were a bit random about what they used where, combine that with the personal choice of people restoring old frames and you have a right old mishmash …
That said I belive the below to represent the rough chronology but who knows what Giovanni did after a long Friday lunch?

Excert from Cyclist Magazine #67 Nov 2017