2021 Pyrenees Classic Cols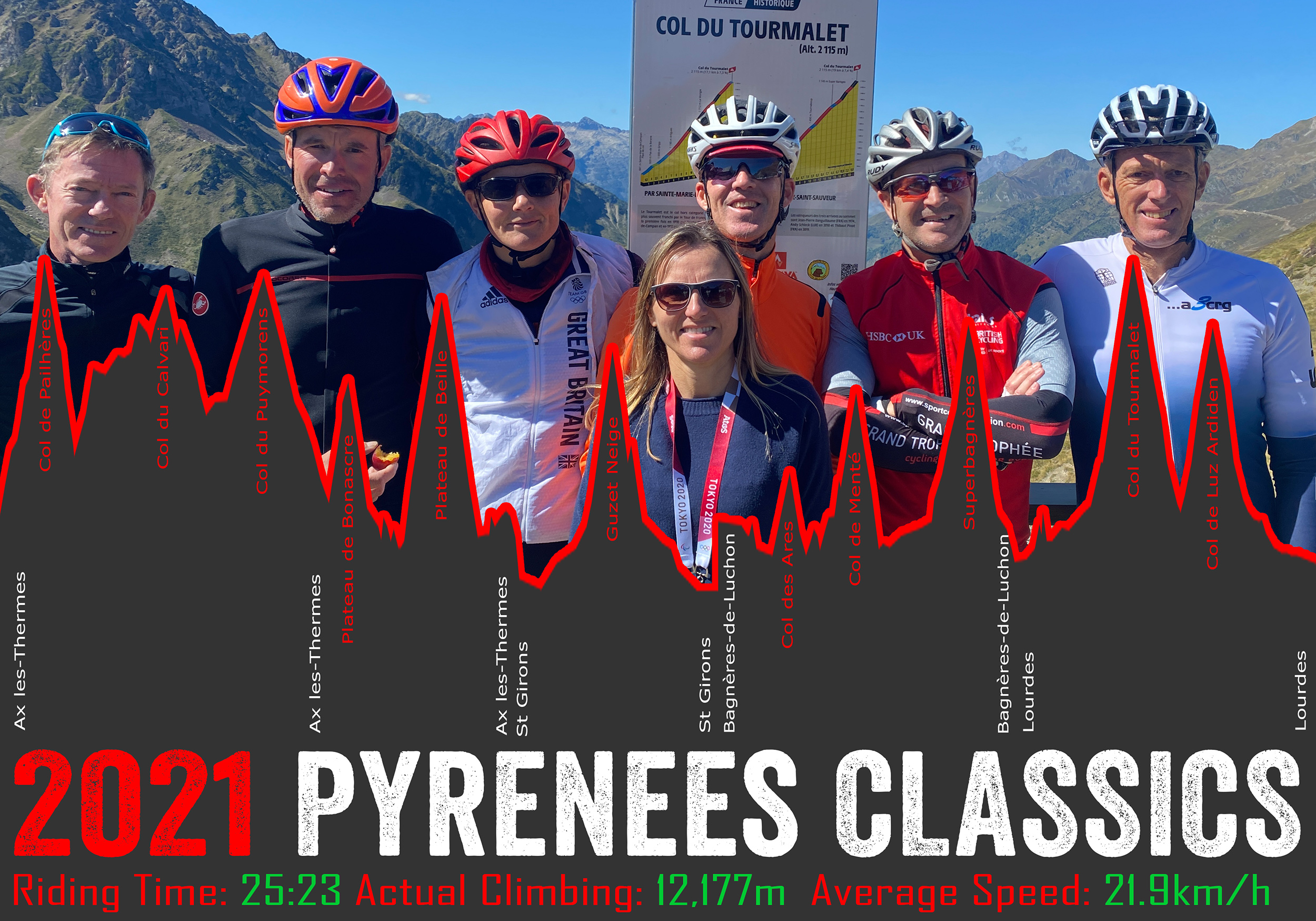 This tour aimed to bag a number of classic climbs that have featured in the Tour du France as mountain top finishes; this means that a number of the routes covered dead-end cols to ski stations.
The key climbs on this tour where:
Col de Pailheres
Col du Puymorens
Plateau de Bonascre
Plateau de Beille
Guzet Neige
Col de Mente
Superbagneres
Col du Tourmalet
Luz Ardiden
Plus numerous "lesser" Cols along the way. The format of this tour was to use cars to transfer between centres to allow us to spend time climbing the roads to nowhere …
Riders: Rick, Sparky, Hamish, Jobbie, Ali, Neil
Directeur Sportif : Sarah
Great work on the route planning by Hamish & Sparky; the route was pulled together at pretty short notice to react to the covid regs at the time and the availability of people.
The details of the whole trip including hotels used and other references including a history of the cols and their place in Tour history can be found via the attached Excel sheet. This sheet also details some of the ride data.
Day 1 – Col de Pailheres, Col du Puymorens
https://www.strava.com/activities/5949134509
Day 2 – Plateau de Bonascre, Plateau de Beille
https://www.strava.com/activities/5953552947
Day 3 – Guzet Neige
https://www.strava.com/activities/5958444814
Day 4 – Col de Mente, Superbagneres
https://www.strava.com/activities/5964622596
Day 5 – Blank
Day 5 was torrential rain and after an extended postponement the ride was abandoned.
Day 6 – Col du Tourmalet and Col de Luz Ardiden
Due to the previous days blank day 6 we rode the route scheduled for Day 5. The weather was glorious and the image below was taken from the top of Luz Ardiden.
https://www.strava.com/activities/5975059011
Day 7 – Blank/Fly Home
Day 7 was scheduled to be a shorter ride with people flying home in the evening but again the rain fell and so bikes were packed and riders headed off …